Today's guest post comes from Kevin at Debt Free Happens. Kevin and his wife Erin are normal people that were in a very normal situation. Six months into their marriage they were $107K in debt. 33 months later we were debt free. Their story is absolutely amazing! He has since started blogging to encourage others as well as creating various side hustles such as his Etsy Shop called Modern Printable Shop. 
How to Use this Etsy Shop Guide
The following guide is not your normal 500 word post on how to start an Etsy Shop. This is an extremely comprehensive guide on how to start your Etsy Shop. I would recommend bookmarking, pinning or saving it in order to come back to it as you need.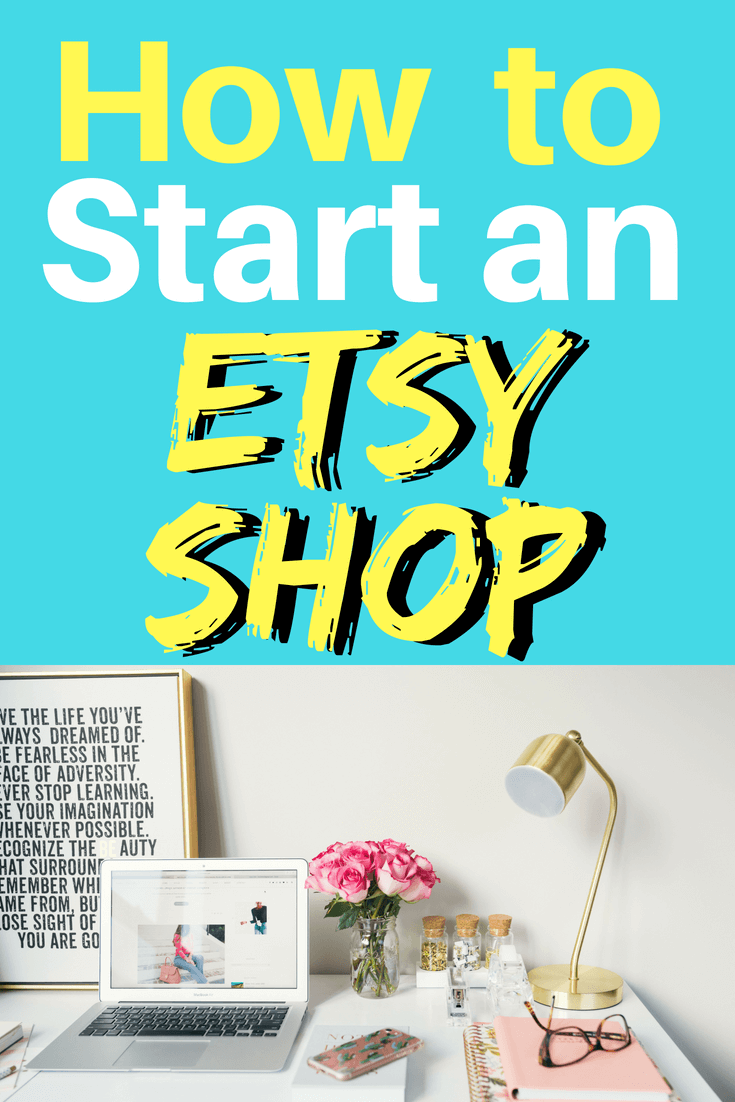 Why Build an Etsy Shop
One of the best approaches to starting a side hustle is to tap into an existing online market place. These include selling on Amazon, eBay and Etsy amongst others. Each have their own advantages, but creating an Etsy Shop has some advantages that has me prioritizing it over these other outlets.
What distinguishes Etsy is that you are only selling products that you make yourself. On Amazon and eBay you are selling items someone else made even if you are private labeling on Amazon.
Etsy gives me the control to make what I want and to get the satisfaction from doing so. This also means that it isn't for everyone so find what will work best for you.
You can sell both physical and digital products on Etsy. I would argue that selling the digital products makes it the most passive out of all the online outlets which is why I am focusing on it. This guide though is for both physical and digital products as there is a lot of overlap in setting up your shop.
My Etsy Shop Experience
2 1/2 months ago I started an Etsy shop called Modern Printable Shop selling digital downloads only and have a total revenue of $312 so far. Of that, my most recent week has netted me $57.30 in sales.
I made 2 sales my first week with only one item up. That first sale might have been the best $1.68 I ever made because I knew it was only the beginning.
It was an instant reward for the work I put in the previous weekend.
The beauty of digital downloads it is that any extra energy I put towards the shop allows me to focus on new products. Once I put a product up I can sell it infinitely. There is no shipping involved for digital products so once it is listed you can literally leave it for the rest of your life.
I started the shop as part of the Mastermind that Gwen (Fiery Millennials) and J (Millennial Boss) from the Fire Drill Podcast ran. 14 shops emerged as part of the mastermind. Not all are profitable yet but a few of us have found legitimate side income.
Two of us from the mastermind joined Gwen and J on the How to Create Passive Income from Etsy Digital Products episode of the Fire Drill Podcast to share what we learned so check that out as well. They also will run that mastermind again in the future so if this interests you then be sure to join along. I fully recommend it.
Two great shops that were put together are The Swag Elephant and Felting Nerdy and More. Check them out!
How To Start An Etsy Shop
There are two main aspects to know when starting a shop.
Find your products
Creating you shop
This guide will cover both starting with how to find a product that will sell. Then we will get into setting up the actual shop.
Find Your Product
There are a couple ways to approach your products.
Do what you know
Learn a skill to get you in a popular category
For me, I did what I know. I am an Architect and I have access to the Adobe suite of software through work. While I have years of experience using them I am far from an expert. I know enough though to give me a leg up and I encourage you to find your leg up as well.
My wife and I also paid off $107K in 33 months during which we discovered a love of personal finance and wanted to base our shop off that. During the process we used different tools such as a debt thermometer and debt trackers to monitor our progress.
As a result, my Etsy shop combines my skills, my interest and our debt payoff experience as a foundation. I also like to make things and I have found that personally rewarding.
Since Etsy is most likely a side hustle for you I would encourage you to combine your interest and your skills to make your products.
Research
A big part of a successful shop is having items that are in demand. While it is great to choose products that you enjoy making they still need to sell for it to be worth it.
Whether you have an idea or not the best place to start is by searching Etsy. Either type in a product type and see what is for sale or just start browsing if you are curious what sells in general. There is a lot on there so it helps to narrow your search as you get some ideas.
Look for shops that have a high number of ratings.
These are the shops that you want to be. You can find a shop's rating under a listing title and shop name next to the 5 stars.
Most shops have 500 or less ratings so look for ones that have at least 2,000 to see who is really established.
Another way to find the top sellers overall and in specific categories is through EtsyRank or Craftcount. These shops are the very best but you don't have to be the best to make a profit on Etsy.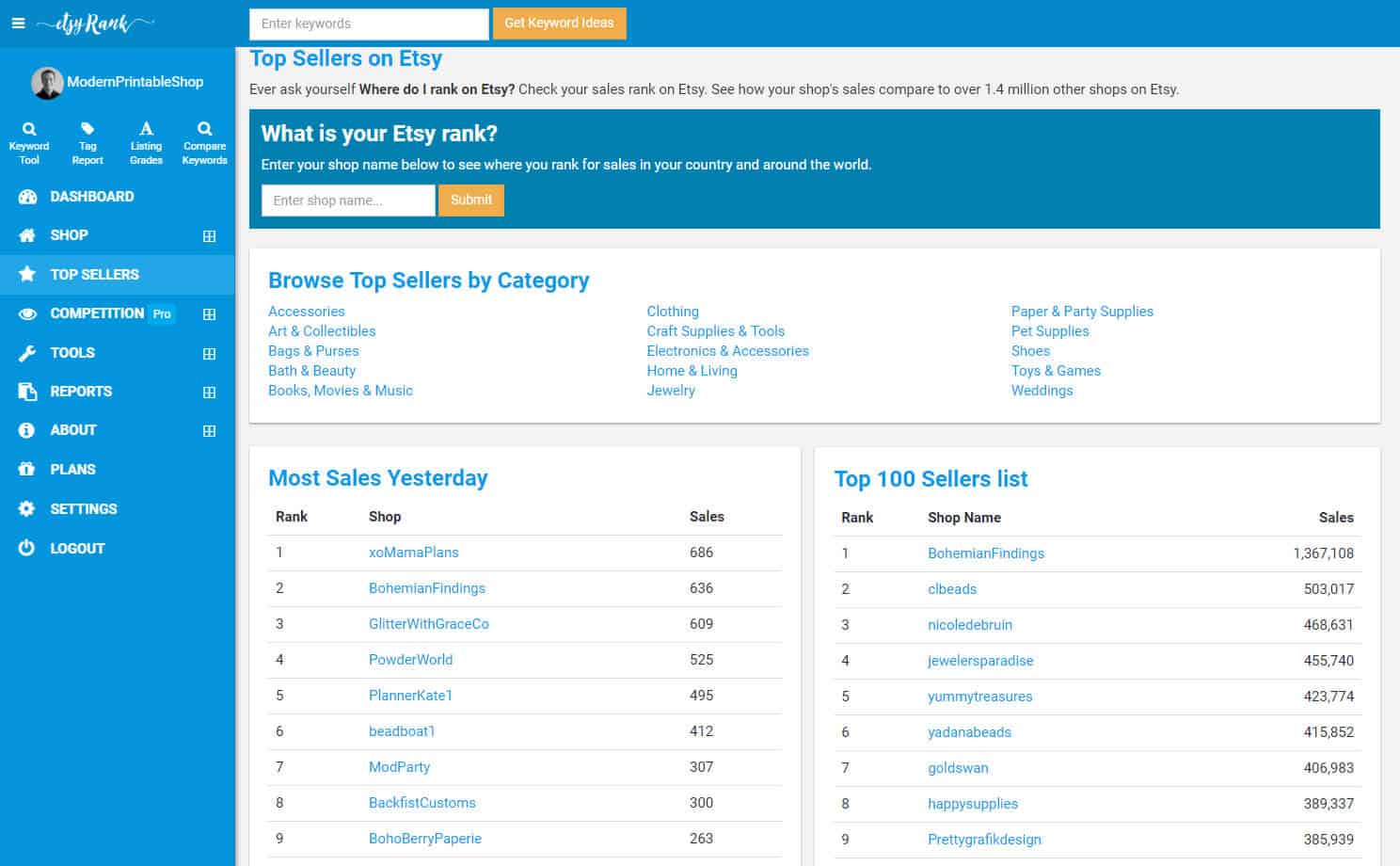 What To Look For
There are three things you will want to look for.
Number of sales
What products they are selling
The quality of their products
Sales
Once in a shop I always look for how many sales they have and how long they have been on Etsy. A shop with 10,000 sales per year on Etsy is in the upper echelon of shops.
A sale represents items sold.
1 sale equals 1 item sold.
Typically, a shop will have 5 – 10 times sales as they do ratings. More ratings mean more sales so that is why you can use ratings as a way to identify items from successful shops.
Products
You will notice that the successful shops have a clear vision for what they provide. It is possible to have more than one Etsy shop so there is no need to squeeze in products that don't fit with each other.
If you sell cute stickers it may not make sense to also sell customized beer mugs in the same shop. Both are great products but you are trying to create an environment that the buyer feels comfortable in.
I say start small but have a larger goal in mind. Do your initial set of products well. They don't have to be perfect but you need something to be the staple of your shop.
Quality
You'll notice that the bestselling shops also look the best and have great products. There is a lot to learn from them.
You don't want to copy, but study how they are presenting their products and see what can work for your situation.
If you are selling physical products, the photos you will take will be what sells the items.
Etsy has great resources for helping you take photos as well as any other aspects of creating an Etsy shop. Reference those to improve your quality.
One general piece of advice for photos is to use natural light.
When starting your shop, the old adage of quality over quantity makes complete sense. When you take the time to do something such as creating your first product or logo then you want them to look good. They don't have to be perfect, but put some time in to make them look good.
My listings went through multiple iterations as I look to build on what I have previously done. You are able to switch out photos or even the products themselves so don't let perfect be the enemy of good.
Just start, but each time you are focusing on something do it to the best of your ability. If you can come back later and do it better, then great.
Take pride in your shop and items though and people with notice.
Physical Products
When producing physical products, you need to consider the cost to make them as well as your time.
See what other shops are making and whether you can compete. We'll get in to pricing later but the cost to produce it needs to be less (duh) than it costs to make.
Factor in your labor as well to get a profit that you feel comfortable with.
You will need to determine if your product will be made to order or ready to ship.
When creating a listing, you can specify the quantity of items you have in stock. That way, you will never sell more items than you have ready to ship.
Start small, and if they sell well then you can always make more.
Custom items made to order are very popular as well. There are whole shops dedicated to providing personalized products. Here is an example of one.
Since they are custom you need to factor in your ability to make them on order. You can specify how long they will take to make in the processing time but be sure to stick to it. Keep your word as you would expect the same of any product you purchase.
Photography is critical to making your product look good. I cannot emphasize this enough. You do not need an expensive camera. You just need to take care and be intentional when taking photos.
Shipping
When you get an order, you need to be prepared to ship it quickly. The buyer pays for any shipping so the cost won't come out of the item price. When designing/making your item you need to consider how it will be shipped so that it is not damaged during shipment.
Two things to note about shipping in Etsy:
Etsy has a built-in shipping program which will print the label for you
Etsy has a pre-negotiated shipping rate that is less than USPS
Use the Etsy shipping system. They make it very easy for you to print the labels and get your package out the door.
Ship your package within the time you indicate you will process it. This is a critical aspect of good customer service.
Custom items will take time to make and ship so factor that in to your processing time. I've seen some shops indicate it will be 3-4 weeks to make/process an item and still be very successful.
Have all shipping supplies ready to go at your disposal. That way once you get your order in you aren't shopping for boxes and packing materials hoping to find something that works.
If you plan to go on vacation and won't be available to ship your items you have a few options.
Find someone to ship for you
Adjust the processing time before you leave and factor in the length of your vacation.
Place your shop in vacation mode. It can negatively affect you though so the first 2 options are best to apply first.
For an in-depth guide for anything you wanted to know about shipping on Etsy click here.
Digital Products
While Etsy is a great marketplace for selling physical objects that you make, it is also the best place to sell printables, otherwise known as digital downloads.
There are many successful shops that only sell digital downloads. This is the focus of my shop for two reasons:
There is no shipping involved
You make the item once
This is a great way to create passive income but it really depends on how you look at it.
Yes, once you make an item it is complete and it can be sold an infinite amount of times. With that, you will still want to focus on making new items as well as potentially improving past items.
There also can still be customer interactions that you will want to address as soon as possible.
What Are They? 
Digital downloads are typically PDF files but can really be anything.
The second most popular file type is Microsoft Excel but you can also sell fonts, snapchat filters and svg graphics files. In general, PDFs are what you are going to be selling and will give you the most flexibility unless you specialize in one of those other types.
A popular term used on Etsy is 'printable'. That is not specific to any product type but rather the idea that you are purchasing something that you will print yourself. As a result, they tend to cost less than if you were buying a pre-made physical object.
If you search 'printable' in Etsy you will see a variety of product types. You would be surprised what is out there.
They don't all sell equally as some of us in the mastermind found out but that is where the research comes in. The great thing is if some products don't sell you can shift and try other ideas out.
You won't be out any money, just time, but it is worth it to find something that works.
My focus has been to start with personal finance printables, but weight loss and home organization is something I want to further branch out into.
Here are some other ideas of digital downloads that one can sell:
Organization checklists

Calendars

Planners

Stationery

Printable Stickers

Fonts

Invitations

Photography

Printable Artwork

Snapchat filters

Packing lists

Stencils

Patterns

Coloring Pages

Stained glass prints

Clipart

Collage Sheets

Desktop Wallpaper
How Do You Make Them?
You do not need to have experience in making these files/products but obviously any experience helps. Ideally, you would use Adobe products to create your files.
I use Adobe InDesign, Photoshop and Acrobat Pro for my specific products. Adobe Illustrator is another great software as well. They cost money though so if you don't have access to them for free like I do through work, then find an alternative until you are making money.
Here are free alternatives to start with. You can always learn software so don't use not knowing them as an excuse. Just Google any questions you have and watch tutorial videos on YouTube and you will do great.
There are also many other free resources out there for using templates to make your product images. Just google away and you will find what you need.
Product Images
We will get into the actual listing part later, but, when making a digital download your listings need to be well presented. This is something you will develop over time but when looking at the top shops their listings are well designed and informative.
You will be competing against many other printables that most likely are very similar to your items. While I am sure your item is better they are your competition nonetheless.
The best way to make a great impression is through the main product image. When someone searches for a product your listing will be surrounded by other products trying to get their attention.
Do some searches yourself to see what attracts your attention. Then look at those items and dissect what you like about it. Once again, you will not copy them but learn from them.
Some ideas to consider:
Take an image of your printable and overlay it on a fresh background
Add text that describes your product
Make a template for you to insert all your listings in
You don't have to get it perfect the first time. You just want to start. Below is an example of the first main image of my debt thermometer next to the latest.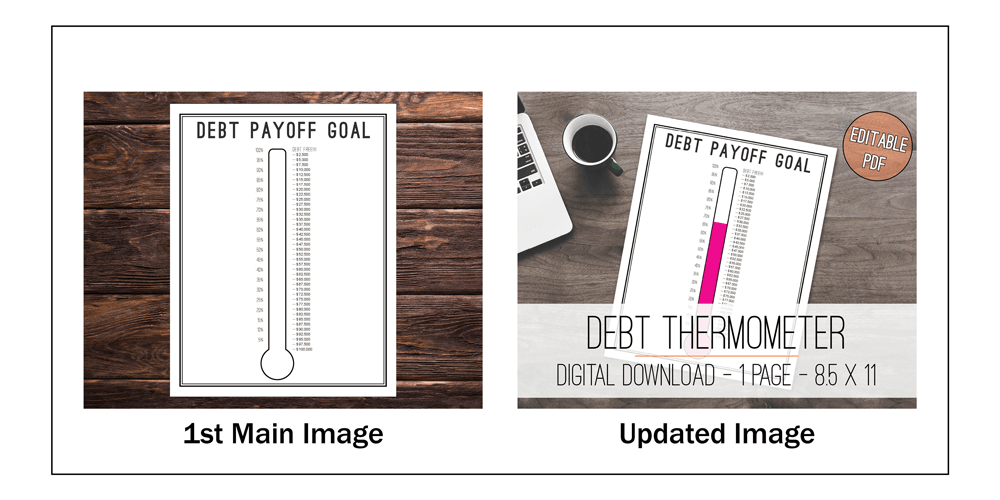 You will see that the main image changed quite a bit but the item itself is still the same. By adding a description on the main image, it makes it clear what the buyer is getting.
I had sales with both but as I developed my shop I wanted to set up a template to put other items in and have the shop feel cohesive. The image needs to work on its own as well in addition to your own shop listings.
Creating Your Etsy Shop
Alright, let's get started on creating your shop. The guide below will help you step-by-step to open your shop.
Create your account.
Go to the Etsy main page. Click 'sell on Etsy' in the upper right corner.
Click the button 'open your Etsy shop' in the center of the page.
Register with your name however you prefer.
Now you have an account. There are 5 steps to getting your shop up and running. We will walk through each one.
Shop Preferences
This is very straightforward. Add in your preferred shop language, country and currency.
Next is to indicate whether you are a part-time or full-time seller. There is no wrong answer here. Etsy is curious to know more about you and your intent when signing up. It does not affect the process of opening your shop.
Name Your Etsy Shop
This can be an intimidating part of the process but don't let that stop you. The first thing to know is that you can change your shop name later at any time. You can only change it once though so be aware of that.
Once again, it doesn't have to be the perfect shop name. The more generic the better but some specificity is good.
Your shop name must be 4-20 characters in length. No spaces are allowed. Don't make it controversial.
My shop name is ModernPrintableShop. As no spaces are allowed it becomes one big word but don't let that deter your from using multiple words as you'll most likely have to.
Etsy does not allow duplicate shop names so you will need to come up with an original shop name. While many are taken you will be able to find one that works for you.
If you look at the top shops and their names you'll see they aren't groundbreaking but they do generally tell you what they sell. You can use your personal name in your shop name which personalizes it.
My focus was on printables that were modern if that wasn't obvious. Some versions of the name were taken so I settled on this which has worked out fine.
Stock Your Shop
For this part you will need an item ready to list. I started my shop with one item and still made two sales in the first week with nothing else.
The steps below are the same steps you would take for listing a new item in general. Etsy has made it part of the shop creation process though and this is where I had the most questions starting out.
I've gone line by line to share what I have learned and added any tips for getting your items noticed more.
Step 1: Add Photos
You can add up to 10 photos. It is suggested to use all 10 photos. This is easier said than done I will admit.
With physical items you will be taking photos of your product so it is easier to use all 10. With digital downloads it is much rarer to see an item listing with 10 items. Try to get 5 images though.
For my first few listings I printed out the debt thermometer, colored it in and took photos. I have had success with doing that as well as not doing so.
If you are taking pictures use natural light and avoid shadows. Take photos that show your item in its entirety, next to an object for scale, in use, in detail and from all angles, etc.
The first image on the left is the main product image that will show up in searches. You will control the order of the images as they appear. Organize the order of appearance from left to right. You can easily click and drag the images around to put them in whatever order you want.
Images are required to be at least 1000 pixels wide and can be any height. These should be high quality images to present your product in the best light.
You can always change these images without creating a new listing so do your best and come back later to improve if you need to.
Step 2: Adjust Your Thumbnail
This is a critical step that is easy to dismiss but is an important one.
This thumbnail is of your main product image and you will notice it has fixed proportions. It is common for your main image to not match the thumbnail proportions which is why they give you the opportunity to adjust.
You should take extra care to ensure that the important content of your main image falls within the thumbnail.
This thumbnail image is what appears in searches and will most likely be the deciding factor for why someone clicks on your item.
If you can't figure it out when creating the listing don't let that stop you from listing the item. Just put it up there and come back to it.
Step 3: Complete Your Listing Details
Title
The title, along with tags, is how people find your item. Be accurate with your title and add as many possible descriptive words as you can. This is called keyword stuffing. List the various iterations of your product as well.
You are limited to 140 characters but I have never found that to be an issue.
Look at your competition to see what they are naming similar items. How you might refer to it might be different than how it is searched for in Etsy. If you want people to find your item then you need to title it with the terms people are using in searches for similar items.
About This Listing
Simply choose from the pull-down menus. Most items will be 'a finished product' including home organization printables. If you have any sort of item to guide you through making something then select 'a supply or tool to make things'.
Category
Etsy recently changed how you chose the category and it appears to be easier now. Type in the category you think it would go in. This is specific to this listing only and not what category you think your shop fits into.
Once you type it in it pulls up options for what it sees as a good fit. Choose the best fit and go with it.
If you are unclear what category to type in find a similar item that is selling well and see what category they listed it in. Go to the bottom of the page to find it.
Under 'related to this item' you will find the product keywords. Etsy lists the product categories at the beginning of the keywords. See below for an example.

Attributes
Add attributes as applicable to your listing such as color, occasion, or holiday.
Renewal Options
Each time you list a new product Etsy charges you $0.20 and it will remain active for 4 months. If you don't sell the item then at 4 months it will automatically renew to keep it active. Otherwise, you can choose to manually renew it.
My suggestion is to automatically renew it especially if you want your shop to be more passive.
When an item sells and if you have the quantity set higher than 1 the listing will stay active. The 4 months will adjust based off the latest sale.
Type
This is where you clarify to Etsy that you have a 'physical' item or a 'digital' item. This is important to correctly specify since that will trigger whether you add shipping information or upload a file.
Description
Here you will write a description about your product and provide any relevant information. It helps to repeat the name of your item for searching purposes.
Describe the item in detail and anything else that is critical for the buyer to know.
Once they buy the product there should be no surprises on the buyers end other than how awesome it is.
Here are some additional items to note in your listing.
Physical Products:
Size

Any assembly or shipping notes

Colors

Materials

Maintenance or care information
Digital Products:
Be sure to note that this is a digital download and no physical item will be shipped to you

How to use the product

File Type

Quantity of pages

Page sizes

Printing instructions

Any software requirements for opening the file

Consider a note about copyright or no commercial use as applicable to your product
Look at the content the best shops are putting in their description and use that as a framework as it applies to your items. No copying.
Also, to save yourself time write the text in a Google or word doc so that you can easily copy and modify it for future items. That will save you time and some sanity.
Production Partner (Physical Product Only)
If there is anyone who helps you produce your products outside of your shop list them here. If this doesn't apply skip this section.
Section
This is optional but as you build up products you can organize them by giving your items a section name. This will make it easier for buyers to find what they are looking for in your shop. You can always apply the section to your product later
Tags
In addition to the title, tags are how buyers find your items. Tags are basically keywords that you can add.
You are limited to 20 characters per tag and are allowed 13 keywords total. Use all 13 of them to maximize your reach.
Your first keyword should match your title if possible. That can be difficult to do in 20 characters. Use all of the variations of your title.
Be as accurate as possible so that buyers aren't misled when they get to your product. You can make new tags but also be sure to use keywords that buyers are searching for already.
Here are some ways to find keywords to use:
EtsyRank is great for doing research on what keywords to use. Using their 'keyword tool' under the 'Tools' section you can type in specific keywords and see the level of competition, the demand and engagement each keyword has. Find keywords with low competition and higher levels of demand and engagement. This will also give you ideas for items to make.


Find a successful comparable item and see what tags they use. This can be found at the bottom of the page in the 'related to this item' section after the category tags discussed above. Copying here isn't a big deal but be sure the keywords apply to your product.
Think outside of the box on a couple tags. My most popular search term that draws traffic to my store is 'Dave Ramsey'. I'm not selling any of his products or associated in any way, although we were on his show to do our debt free scream. Buyers though have decided that searching Dave Ramsey on Etsy is a great way to find personal finance products.
Materials
This is optional and applies to physical products rather than digital products. You can include the attributes that you labeled previously as well as include any materials previously listed. If you specialize in wood or a type of fabric then be sure to use these material tags.
Step 4: Inventory and Pricing
Pricing
First thing to know is that this amount can change without any extra cost to you or needing to relist your item.
There are a few ways to approach this:
Start low and see if it sells. If so, raise the price until you feel it affects sales.
Price your item based on what your competition is selling it for.
Price higher than you feel comfortable and see how it does. You might be surprised.
In general, I would say don't undercut your competitors so much that it pulls the market down. I understand wanting sales but these are products that you have put a lot of time into. Sometimes less sales at a higher price is the way to go.
Consider that Etsy charges $0.20 as a flat fee per item sold and a small percentage of the remaining amount. The higher your item price the less impact that $0.20 has on it.
Quantity
For physical products, list the amount you have in stock currently. This ensures that you don't sell more than you can fulfill at any time.
For digital products, it is less critical but you will want to list more than one. Otherwise, each time you sell one you will have to activate the listing again. I tend to list 100 and see how it goes.
You can always adjust the quantity so if you want to change the amount you are able to without paying a fee or having to relist the item.
SKU
This is related to any SKU system that you have for your products. There is no requirement to have a SKU on your product, to register it anywhere or to have your own SKU.
Step 5: Set Shipping Price or Upload Digital File
Digital Files (Digital Product Only)
Here is where you upload your file. You can upload up to 5 files. If you have more than 5 files then you can upload a zipped file.
Name them clearly so the buyer knows which file is which. This is especially true if you have multiple files.
On the left there is a link to add a note for buyers. If you click that link it will open a new window to the 'Info & Appearance' section under 'Preferences'. Insert a message to buyers with any instructions they might need or thanking them for their purchase.
This is a typical message for your shop in general so do not make it specific to any one item.
Shipping (Physical Product Only)
Work through the interface to set up your shipping preferences.
Please note that under 'Processing Time' is where you can specify how long it will take you to ship. If you are making custom items or going on vacation for a few days you can incorporate that timeframe here.
There are other options here that you can include such as free shipping or a handling fee. The handling fee is a good place to factor in the cost of the shipping materials and any transportation costs that might be required to ship your item.
To save you time in the future you can save a shipping profile by clicking the button to the right.
Step 6: Publish 
We are almost there. Creating your first listing is a bit arduous I will admit but it is all critical information. It gets easier with practice but overall is very straightforward.
Click 'preview' if you want to see how your shop looks. You will still need to click publish on the next page to make it active.
I have noticed that after clicking one of the 3 buttons (preview, save as draft or publish) that a message will appear telling you to fill out all fields correctly.
If you get this, look over your listing again to verify you haven't missed anything, but it seems that you can just click the button again and it will do what you ask it to. The message can appear when everything is there.
Click 'save as draft' if you want to come back to your listing later. Your shop will not be open at this point though.
Click 'publish' if you are ready to go. Keep in mind you will be able to edit all this information later at no extra cost so don't be nervous about publishing it.
Congratulations! You have your first product listed, but there is one more step to get your shop open. You are so close!
After publishing your listing, you will be brought back to the 'stock your shop' page. You can add other listings if you want but at this point I am sure you are exhausted and want to get a move on it.
Click 'save and continue' when you are ready to proceed.
How You'll Get Paid From Your Etsy Store
This is kind of exciting because you tell Etsy how they pay you. While you need a sale to get money from them you will have everything in place once you do.
You can choose how frequently you get paid. I have it set up so that I get paid once a week which has been a nice option to keep me motivated.
Ideally, you would have a dedicated account for your Etsy shop. If you don't have one initially because you are trying it out that is fine. Just get one set up soon enough to make your accounting much easier.
Set Up Billing
It is required to have a way for Etsy to bill you. The fees are typically pulled out of the profits but there are still additional costs you can and will incur.
Depending on where you live Etsy prefers to have a credit card on file to verify your identity. There is a small authorization charge on the card when opening the shop but it is removed soon after the card is verified.
You can also provide a Paypal account to pay your bill as well.
Here is a summary of the fees you might be required to pay.
Open Your Shop
You are now ready to open your shop! Click 'open your shop' on the bottom of the page.
You are now in business! Congratulations!
But Wait! There's More!
Now that you have your shop open you will notice it is a little barren looking. That is fine. The good news is that it is easy to add more information to make it look more complete.
Etsy likes when sellers fill out most of these sections so it is important to include this information. Any, and all information you can add you should do so.
Here are some ways to complete your shop. Consider this a checklist to complete over the first week or so. You can still get sales without this information filled out but think about how you would view your shop as a buyer. What would you want to see?
Go into the 'shop manager' section to go behind the scenes of your shop and access these options.
Info & Appearance
Under the Settings section you can add various information that will start to communicate to the buyers what you and your shop is about.
Shop Name
Here you can change the name of your shop. You can only change it once so I would not change it unless you have a good reason. Get your shop going first and see where things take you before changing it. The good news is that you are not stuck with it forever.
Shop Title
This portion is really a subtitle. It gives the opportunity to add more detail about what you are selling or provide a witty phrase.
Shop Icon
This is the first graphic I would focus on. Have fun with it and be creative. Like everything else you can change it later.
If you have no clue where to start just focus on writing the name of your shop in a font you like. That is a good starting point.
The recommended size of the icon is 500 x 500 pixels.
The shop icon is important because it shows up on your item listings as well as your shop page.
Shop Banner
The shop banner is a smaller horizontal branding graphic that can be added to the top center of your page. It does not show up under an individual listing.
It is optional to add. If you want a branding image at the top of your page you can add the banner or the cover photo, which is much larger.
For reference, my shop has a cover photo added and not a banner.
The recommended size of the banner is 760 x 100 pixels.
Cover Photo
This is the big graphic you will see across the top of a shop. It does not show up under an individual listing. It can be a powerful graphic and gives you the biggest opportunity to establish a brand for your shop.
It will show up on both a buyer's desktop computer and mobile device.
The recommended size of the cover photo is 3360 x 840 pixels. The minimal size is 1200 x 300.
To add the cover photo, you do not do it in the Info & Appearance section for whatever reason.
Here are the steps to add a cover photo or banner.
When logged in to your account go to you shop main page.

In the center of the screen next to your shop icon click 'edit shop'.

When in edit mode click 'add a cover photo to highlight your brand' at the top center of the page.

Choose whether to add a banner or cover photo.

Once uploaded you can adjust the location of the cover photo.

Click 'save'.
Etsy Shop Announcement
The shop announcement is a short message you can offer to buyers alerting them to anything you want to say. Keep it short as you can add more information to the about section.
Message to Buyers
I spoke about this earlier but here is your opportunity to send a friendly message to buyers when they receive your item. This message is sent universally for all sold items so don't make it item specific.
Anything specific should be under the item description.
Fill Out Your Policies
An important thing to focus on from the beginning are your policies on returns and exchanges.
Under 'settings' click 'info & appearance'. Click the 'policies' tab and click 'edit policies in shop home' in the center of the page.
Work through the options as you see fit. For digital files you might not want to offer refunds since they will have had access to your file. If there are any issues then the buyer can contact you and you can work out any issues they might have. If there is something wrong with your product make every effort to fix it and send the buyer a new one.
About Your Shop
Here is your opportunity to share your story and personalize your products.
Members
Add yourself as a shop member and anyone else you want to feature. Provide a short bio. Add a profile photo as well that is friendly and presents your business well.
Etsy Shop Story
Here you can write a longer story about your background and why you are running this shop. Maybe you have a fun story about how you started making the items you sell or how some life event got you to where you are.
Etsy seems to like when sellers have this section filled out. It certainly won't hurt.
Shop Video
If you are capable of putting together a great video then do it. Videos make your story and creation process much more personal.
If you don't have a video, don't worry, this is simply an option that could give you a leg up. I don't think I have seen a shop video but I haven't really looked.
Shop Photos
Now, you should add shop photos illustrating your background and creation process. Feel free to add a caption to explain what the buyer is looking at.
You are allowed 5 photos with captions each. These will appear in an automated slideshow. Set the order of images by dragging the images up and down. The order starts top to bottom.
Shop Links
If you build a Facebook page, Instagram or Pinterest account for your shop here is where you can link to them.
Etsy Promoted Listings
Etsy makes it easy for you to advertise your items. You do have to pay for it though but it can be beneficial.
The ads that I am referring to are the ads you see when you search a topic in Etsy. They appear across the top row and are noted with a little box that says 'ad'. If there are a lot of search results you will see another row in the middle of the page.
It does not prevent you from being placed in the search results. There would simply be a duplicate listing. You'll notice in the screenshot below that the same item appears in both an ad as well as a top search result.
This can be redundant, but it at least puts potential buyer's eyes on your item twice.
To turn on Etsy Shop Ads:
click 'marketing' on the left menu
then click 'promoted listings'
Under the 'ad performance' section it will note promoted listings as 'off''
To the right of that, click 'manage' and turn them on

From there you can set your daily budget
Advertising Cost 
You technically pay for clicks only. You are not paying for your ad to appear as part of a search (called impressions). Ads are placed based on your title and tags so if they are not representative of your product you will be reaching the wrong people.
You can set a daily budget of $1 – $50 a day.
Start low.
The first few days you won't spend your allotted amount but you will within 2 weeks and the cost adds up. You can control which items you advertise as you don't want to advertise them all if they aren't bringing positive results.
Revisit this daily to see how they are performing.
To compete for ad space, you will establish how much per click you are willing to pay, also referred to as a 'bid'. You can manually set the price of the bid or you can allow Etsy to adjust the bid price automatically.
If you set it automatically the price will gradually increase. In the beginning it might be automatically set at $0.10 but as you continue to advertise it could go up to $0.25 per click.
That gets a bit out of hand depending on what you are selling.
Etsy will track any orders that are made because of a click. It will show your cost as well as your revenue.
Most likely, the cost will build up before the revenue kicks in but monitor daily. Ultimately, the net difference is your profit. Breaking even though does at least give you sales which is a good thing.
To be honest, you'll need to test it out to see what works for you and your shop. To get the full effect you should run ads for at least 2 weeks if you choose to go this route.
Etsy Sales and Coupons
Sales are a great way to stand out amongst other shops. There are two ways to approach sales.
Run a flash sale on special days or times to try to increase your sales.
Raise your prices and then consistently have your items on sale at a price you were selling it for previously.
Both options are valid and relevant to the success of your shop. Personally, I like to have my items on sale perpetually so I set my prices accordingly.
One big reason I like this is because buyers can sort and filter search results to show only sales. Also, it plays with the psychology of the buyer knowing they are getting 30% off rather than paying the same amount at full price.
As much as I hate that from the standpoint of not wanting people to buy stuff only because it is on sale, I can justify it because I am confident my items will ultimately help people and the cost of the product is a blip compared to their success.
To start a sale:
click 'marketing' on the left menu
then click 'sales and coupons'
Click '+ new special offer' in the top right-hand corner of the screen

Then follow the prompts depending on what you want to do
You can always cancel a sale that is in progress, but not edit it.
Ready?
With this guide you have tons of information to help you start your shop and start making money. I hope this guide doesn't make it too intimidating to start your shop.
Honestly, I really like Etsy because once your shop is open you can make money while building it.
It has a very low barrier to entry which is great. You don't need to have everything in place and perfect to get it going. There is a lot to add to it but once it is all set up you can simply focus on making your items.
Most of all, it is fun to make your items and run your shop. It is deeply satisfying creating items that can help people or bring general happiness to them. It can unlock your potential and help you grow.
If you want to start a shop I suggest making your first item and just opening it up. It can easily be done in a day, if not a few hours, so set aside some time and just make it happen. Your future self will appreciate it and you'll be an expert in no time.
If you are inspired by this post to create your own shop I would love for you to reach out to me and show it off.
Kevin Jones