Cheapest Sink Caddies of 2021
1. HULISEN Kitchen Soap Dispenser Caddy
Pros
Sink Caddy is great for use in kitchen and bathrooms
There is plenty of room for soap dispenser and 2 sponges
Made of high quality SUS304 stainless steel material, which is waterproof and rustproof
It matches perfectly with stainless steel kitchen appliances
The bottom tray slides out and it's plastic so you can clean it easily
Cons
The stainless steel part can produce a few scratches and can get bent
The water catcher underneath the sink caddy is cheap plastic, not ceramic
The suction on the sink caddy is terrible
Need more information? Check it out here
2. Nieifi Sink Caddy Organizer Sponge Soap Brush Holder
Pros
The sink caddy is made with premium-grade stainless steel
There are separate compartments for brushes
The steel base is more solid than cheaper alternatives
Cons
There are no suctions cups to keep the caddy in place
The legs can be uneven and cause the caddy to sway back and forth
Need more information? Check it out here
3. Q-Life Kitchen Sink Caddy
Pros
Soap caddy is made with stainless steel, which is durable and easy to clean
The anti-slip rubber bottom can protect your counter from scratches
Removable drip tray keeps countertop dry and clean. No more water or bubble stains on the surface!
Cons
Newer product on the market that doesn't have large number of reviews/purchases
Stainless steel is scratch-able over time and can get bent so handle with care
The water catcher like the other sink on the list, is cheap plastic and not ceramic
Need more information? Check it out here
4. Tesot Sink Caddy Sink Organizer Sponge Holder with Drain Pan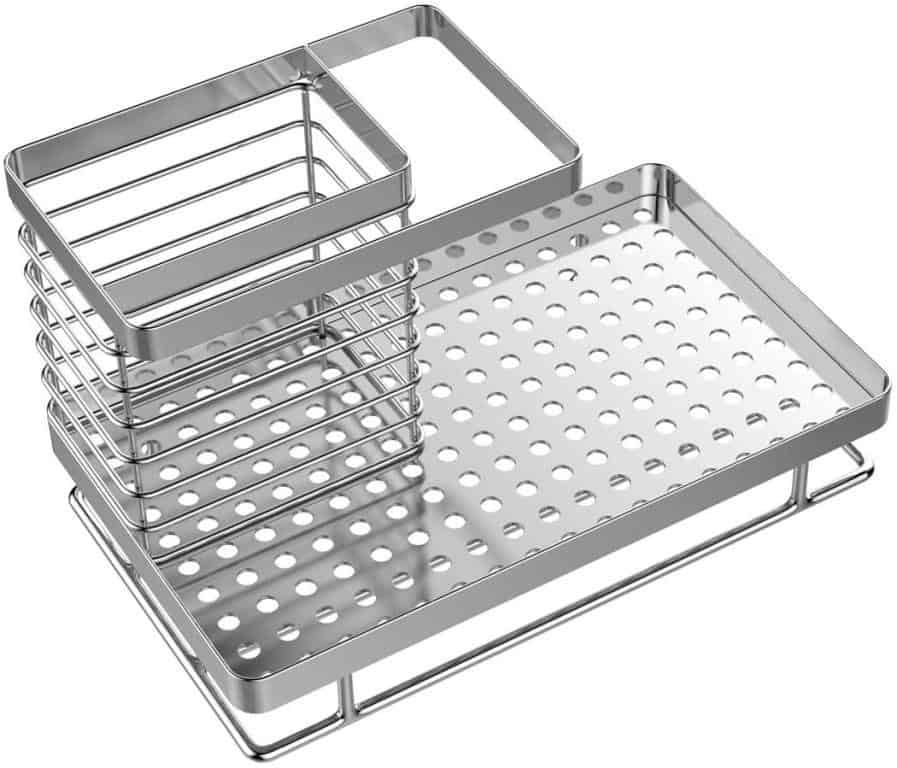 Pros
Black color available alongside the silver version
It has a great separate holding tray for brushes and towels
Slightly larger than alternatives so it can fit more stuff on it
Cons
More expensive than cheaper options on the list
Can be harder to clean due to more complex parts on the sink caddy
Need more information? Check it out here
5. SAYZH Sink Caddy Organizer
Pros
Sink caddy is expandable from 14.2 to 17.3 inches, which fits most standard sized sinks.
It holds almost everything you want near the sink like brushes, towels soap, sponges, etc
Cons
Newer item available on the Amazon marketplace
There are complaints about how stable the sink caddy can be on certain sinks
Need more information? Check it out here