The 8 Best Places to Buy Cheap Razors
Unless you're the type of man who can pull off the lumberjack look, there's no way around it: you need to buy razors.
Unless you're a billionaire, this is a problem.
That's because men's razor blades cost a fortune.
In fact, one of the best reasons to grow a beard is just so you can save the money you'd otherwise spend on razors. That way, one day, you'll actually be able to afford a mortgage.
Fortunately, there's some good news.
Men have begun waking up to the fact that they shouldn't have to choose between regularly shaving and regularly eating. That means options now abound for those of us who want to buy cheap razors.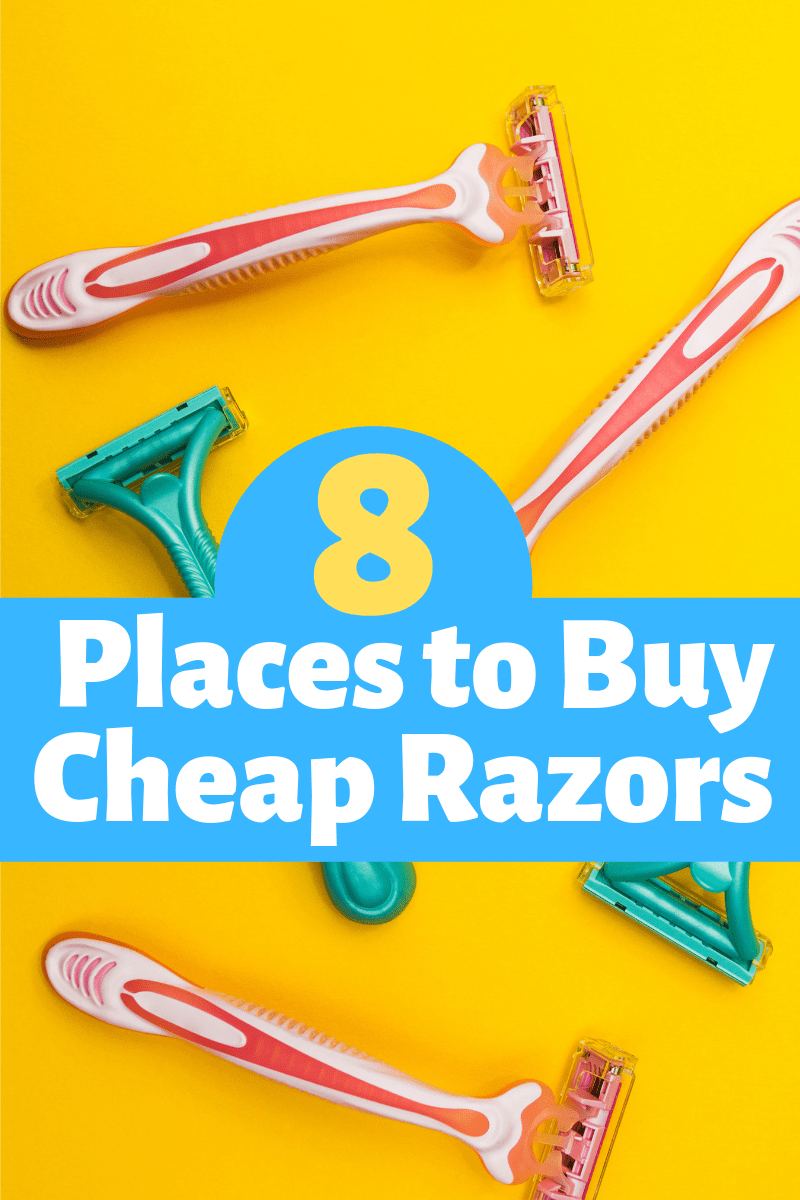 8 Options if You Want to Buy Cheap Razors
Just because you want to buy cheap razors doesn't mean you have to settle for a shave that looks cheap, either. Here are eight options that will leave your face clean-shaven and your budget in good shape.
1. Dollar Shave Club
Seven years ago, men's shaving changed forever when Dollar Shave Club broke on to the scene with this now-famous commercial:
Just like that, "subscription shaving companies" were born.
Today, Dollar Shave Club offers their "Starter Set" for just $5.00. It includes:
4-pack of razors
1 Razor Handle
1 Shave Butter
1 Post Shave Due
1 Prep Scrub
Then, going forward, you can choose from three different razor options:
The Humble Twin Cartridges (2 blades): 5 razors for $3.60
The 4x Razor Cartridges (4 blades): 4 razors for $6.30
Executive Razor Cartridges (6 blades): 4 razors for $9
Shipping is completely free, and you can cancel at any time without facing a penalty.
Dollar Shave Club has also extended its product line to include a host of other grooming necessities, including deodorants, shampoos, toothbrushes, cologne and more. You can order trial kits that combine these add-ons before adding them to your subscription service.
2. Gillette on Demand
After Dollar Shave Club disrupted the entire industry, it was only a matter of time before its reigning king of the hill, Gillette, decided to do something about it.
Along with suing their new competitor, Gillette also introduced a subscription service for razors of their own: Gillette on Demand.
Here's what their current pricing looks like:
Sensor3 Razor (3 blades) with 8 disposable razors: $7
Mach3 (3 blades) with 4 blade cartridges: $7
Fusion Proshield (5 blades) with 4 blade cartridges: $17
Your first order of the Mach3 and Fusion ProShield come with free handles, as well.
A lot of people looking to buy cheap razors have also chosen Gillette because every fourth order is completely free when you sign up for a subscription – tough to beat that price. If you're not sure the subscription service is right for you, Gillette on Demand also allows you to order one razor at a time.
Like their nemesis, Gillette offers a wide-range of other grooming products. However, their product line also branches out to include things like heated razor blades along with bodywash and shampoos.
3. ShaveMob
ShaveMob may not enjoy the same level of popularity as Dollar Shave Club, but the company actually joined the razor-subscription scene just two years after its predecessor and has been going strong ever since.
It attracts men who want to buy cheap razors and, like Gillette on Demand, doesn't require them to sign up for a subscription service in order to enjoy them.
Here are your options with ShaveMob:
The Baby Face (3 razors)

4 Cartridges: $9.99
12 Cartridges: $14.99
24 Cartridges: $24.99

The Average Joe (4 razors)

4 Cartridges: $10.99
12 Cartridges: $17.99
24 Cartridges: $29.99

The Caveman (6 razors)

Without Trimmer

4 Cartridges: $11.99
12 Cartridges: $19.99
24 Cartridges: $34.99

With Trimmer

4 Cartridges: $12.99
12 Cartridges: $22.99
24 Cartridges: $39.99
Interestingly, ShaveMob will give you your entire order at once. So, instead of waiting every month for your new razors to arrive, you'll just receive them all in your first package. That makes ShaveMob a good choice for any guy who wants to save even more on shipping, handling, and packaging costs.
After your first order, ShaveMob simply sends you an email every now and then to see if you need more razors.
Is your lady looking to buy cheap razors, too? ShaveMob also has razors for women.
4. Harry's
If you're the type of guy who likes to keep things simple, Harry's is an easy recommendation. That's because the company only offers one option: a five-blade razor.
That said, the company gives members the option of either a single rubber handle or reusables.
Harry's subscription plans start with one of two shaving kits. Again, they keep it simple, both include:
2 Cartridges
1 Foaming Shave Gel
1 Travel Cover
The only difference is that the Truman Set comes with a weighted-core handle and textured rubber grip for $15.
On the other hand, the Winston Set has a die-cast zinc handle with a polished-chrome finish and sells for $25.
After that, you can order more blades as necessary. Harry's pack sizes are:
4 Cartridges for $9
8 Cartridges for $16
16 Cartridges for $30
Though they don't offer the same product inventory as the other options, Harry's does have the essentials like shaving cream, gel, and aftershave balm available on their site.
5. Dorco
As if the "Razor Wars" hadn't already been interesting enough, a year after Dollar Shave Club debuted, some intrepid men who really wanted to buy cheap razors discovered they could actually bypass the company altogether. It turns out, a company called Dorco was the one making their razors.
Dorco doesn't require any subscription or other kind of commitment, either.
Their collection of men's razors is easily the largest on this entire list, but here's what your main options look like:
Pace 3: $5.25
Pace 4: $6.00
Pace 5 Pro: $7.00
Another reason Dorco has a big following among men who want to buy cheap razors is because they regularly offer bargains on their sale items page. As you never need to actually subscribe, it wouldn't be a bad idea to check in on that page every now and then, even if you determine you prefer another brand as your main razor.
Dorco has a line of lady's razors, as well.
6. Dollar Tree
If you have a Dollar Tree in your area, that's a great place to check for cheap razors.
Unsurprisingly, the price for razors at The Dollar Tree is just $1. You can even get free shipping from their website or schedule instore pickup.
While these are the very cheapest razors on our list, you will absolutely get what you pay for if you decide to purchase them. These are not going to be the highest-quality disposable razors, but the price is nearly impossible to beat. If nothing else, it's not a bad idea to have a couple of these on hand just in case.
7. Search Coupons for Local Stores
Speaking of local options, the real bargain-hunters among you should keep an eye out for coupons to nearby stores.
Here are a few great sites to regularly check on so you don't miss any amazing deals:
There is no shortage of other coupon sites out there, either. So, if you're really looking to buy cheap razors, it's just a matter of sitting down and going through them.
Of course, if you stop into any of the giant pharmacy chains, you'll almost always find rock-bottom prices. Unlike The Dollar Tree, these are often on name-brand razors, too.
Check your area for any of these chains to find some amazing prices:
These pharmacies are almost always running some kind of sale, offer rewards programs for even more savings, and will match coupons from competing stores.
8. Check on Freebie Sites for Free Samples
Finally, big department stores like Walmart and Target sometimes offer free samples on men's shaving razors.
There are also a ton of websites out there that literally exist to just give you free stuff. Often, these "freebie sites" even offer samples of razorblades at absolutely no charge (aside from shipping). They usually come with coupons, as well, so if you like a particular razor, you can go buy them for less at a local store.
Even better, these sites actually offer these free samples on major name-brand men's razors.
5 Ways to Make Your Razors Last Even Longer
You now know where to buy cheap razors, but there's still a lot more you can do to keep your shaving budget to a minimum. Whether you pick the most expensive option above or decide to order up some free samples, here are five easy ways to make your razor last much longer.
1. Do Not Store Your Razor Near the Sink or Shower
First and foremost, be careful about where you keep your razor when you're not using it. If you're like a lot of guys, it's currently lying on top of your sink, sitting in the shower, or is somewhere nearby.
The problem with these convenient locations is that they expose your razor to steam from hot water. That's a big no-no when you're not using it because all that moisture attracts bacteria and can even rust the blade. So, now your morning routine involves scraping a bacteria-covered, rusty, sharp object across your face.
Not good.
Instead, always store your razors in a cool, dry spot where moisture can't get to them. We're not saying it needs a special room in your place, but even keeping it in a drawer or medicine cabinet will help your razor last a lot longer.
2. Prepare Your Face Before Shaving
Before you shave, take a moment to get your face ready. It's better for your skin and better for your razor of choice.
Even with "tough" names like Mach 3 and The Caveman, the truth of the matter is that the blades themselves aren't particularly strong. That's why you need to replace them every few weeks if you shave regularly. They get dinged up pretty easily, which affects how well they work.
So, start by trimming away any facial hair if you have some decent growth at the moment. It's not a bad idea to invest in an affordable electric for this reason, too.
Next – and there's no easy way to tell you this – your face is covered in dead skin.
Fortunately, most of it is probably yours (hopefully). That dead skin might not look as dramatic as it sounds, but it's a real pain for your razor to get through on the way to actually doing its job.
This is why you need to exfoliate.
Don't worry. You only have to do it once or twice a week, and you don't actually have to admit to doing it to any of your friends. A couple quick exfoliation sessions will be plenty to wipe your face clean of dead skin cells and just about anything else keeping your razor from providing a satisfactory shave. There are plenty of equally-affordable face scrubs out there, too.
Lastly, think about applying a hot towel to your face before moving on to the shaving cream. Splashing hot water on yourself just isn't enough. You want that skin nice and supple before you run a blade over it, so there's no unnecessary resistance working against it.
3. Let the Shaving Cream Sit for a Couple of Minutes
The American Academy of Dermatology recommends men don't begin shaving immediately after applying their cream.
Instead, give it a couple of minutes to penetrate your facial hair. The better it's able to do so, the better it will be able to soften the hair and prepare it for an easy shave that won't unnecessarily dull your razor.
If you don't love the idea of your alarm clock going off any earlier, use these two minutes to brush your teeth, floss, or comb your hair.
4. Shave in the Right Direction
Believe it or not, there is a correct direction in which to shave.
It's in the direction that your hair grows. Shave with the hair – not against it – and you'll notice far less razor burn and skin irritation. Not sure which direction your hair is going? Watch this:
Once again, you'll also add to the longevity of your blade by limiting the resistance it faces with every stroke.
5. Clean Your Razors After Every Shave
After you buy cheap razors, buy a cheap toothbrush, too. They're great for cleaning the razor off, so it's dry and hair-free when you store it in that nice, dry place we mentioned earlier. This will add some extra sessions to its lifespan.
If you're feeling especially fancy, you could even invest in a RazorPit to keep your blades sharp, so you don't go replacing them prematurely.
Deciding Where to Buy Cheap Razors
As you've now seen, you're not lacking for options if you're looking to buy cheap razors. Better still, you don't have to sacrifice quality to save money, either.
While having all of these options to choose from is a good problem to have, it might seem a bit daunting, too.
Our advice is to start small with a single order of two brands to compare them and work your way through the list as necessary until you're happy. You might even pick the winning brand on your first try.
Enjoy your shave!